Discussion Starter
·
#1
·
This is a follow-on from my posts in the 'MY16 Missing Items' thread about how the right hand side boot courtesy light has gone missing from the 'Additional Lighting' option in MY16.
My car is a MY13 and I haven't got the 'Additional Lighting' option, but a) I've been doing some work behind the cargo area trim (possibly coming to my old 'DAB Retrofit' thread soon), and b) I've got the floor harness from another car (that also didn't have the 'Additional Lighting' option), so i've got a good length of wiring thats the right colours and has the correct plug on one end, so I thought I'd have a look into developing a 'Plug and Play' solution to put it back without having to splice into the existing wiring (and potentially causing warranty issues).
The first thing to look at was the wiring diagram for the cargo area lighting on my car: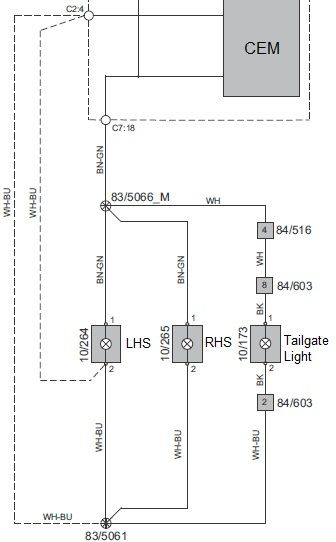 It shows 2 optional paths (shown as dotted lines) for the White/Blue (negative) wire back to the CEM - a single wire from the LHS light for cars without Additional Lighting, or 3 wires connected together at branching point 83/5061 to single wire to the CEM for cars that have the option. The same is true for the Brown/Green (positive) wires, which are joined together at branching point 83/5066_M for cars with the option (the wiring is very similar for later cars, except that the RHS light has now disappeared).
The main thing this tells us is that the cargo area Addtional Lighting is all driven from the same outputs on the CEM, so we should be able to add the second light my making a simple Y cable that attaches to the existing LHS light's connector.